Air Caster Repair, Spare & Services
ALL THE TYPES, ALL the brands!
Hover Transport Systems is the right company when you want to keep your air casters (or air bearings, air cushions) in the best shape possible.
Together with our local Certified Service Partners we provide services like air caster repair, air bearing repair and spare parts. We can even make full-service contracts.
In order to provide you the lowest TCO possible, we can repair air casters. All types of air casters from all manufacturers that are currently on the market. Both the neoprene and polyurethane types.
In some cases we will even renew the warranty.
Example for a 500mm (21″) diameter air caster:
Air caster repair (just replace the top rubber layer)*

Costs €180 (35% of new air caster)

Air caster exchange bladder (the complete rubber part)**

Costs €257 (50% of new air caster)

Complete new replacement air caster (100% compatibel to other brands @ lower cost)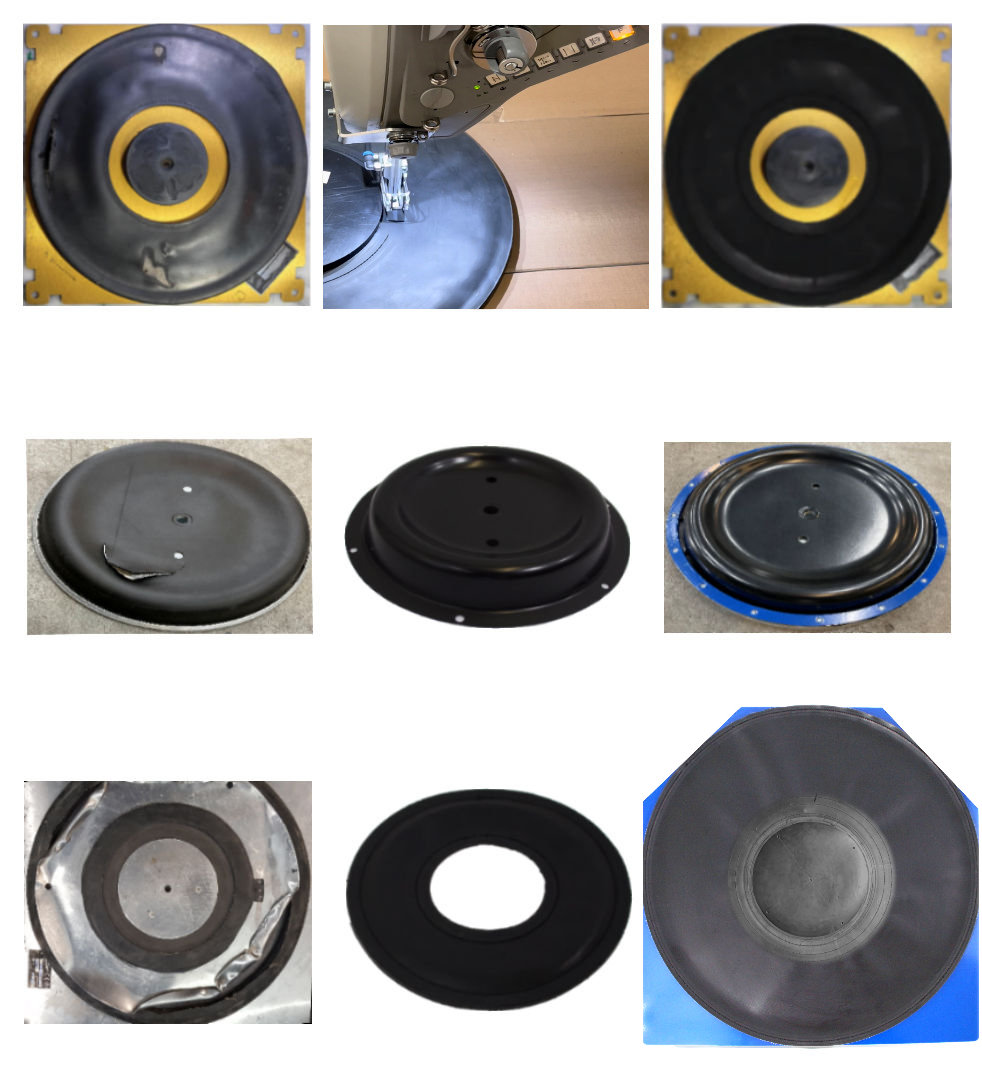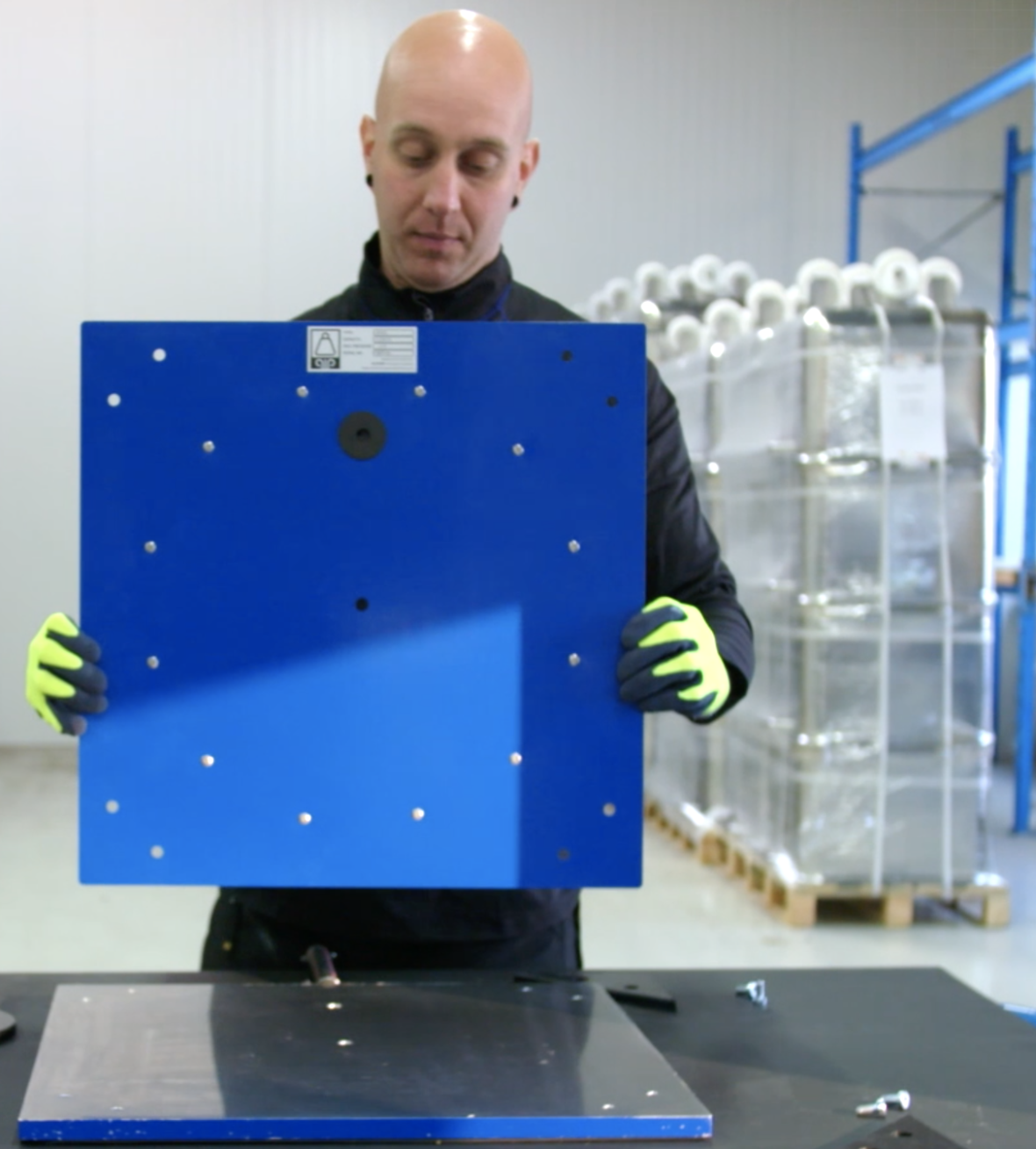 Air bearing services
Preventive air caster inspection
Planned preventive inspection of your air caster transport machines
Air caster repair tread
An exchange of just the top layer of rubber that is in contact with the floor
Complete rubber exchange
Exchange the complete rubber torus bag or diaphragm
Air caster and pneumatic spare parts
Deliver spare air caster and other pneumatic parts
On site stock
Have a number of spare air caster as consignment stock in your own facility
Full service contract
An all-in service contract for your complete air casters inventory, regardless of type and make
How does this air caster repair service work?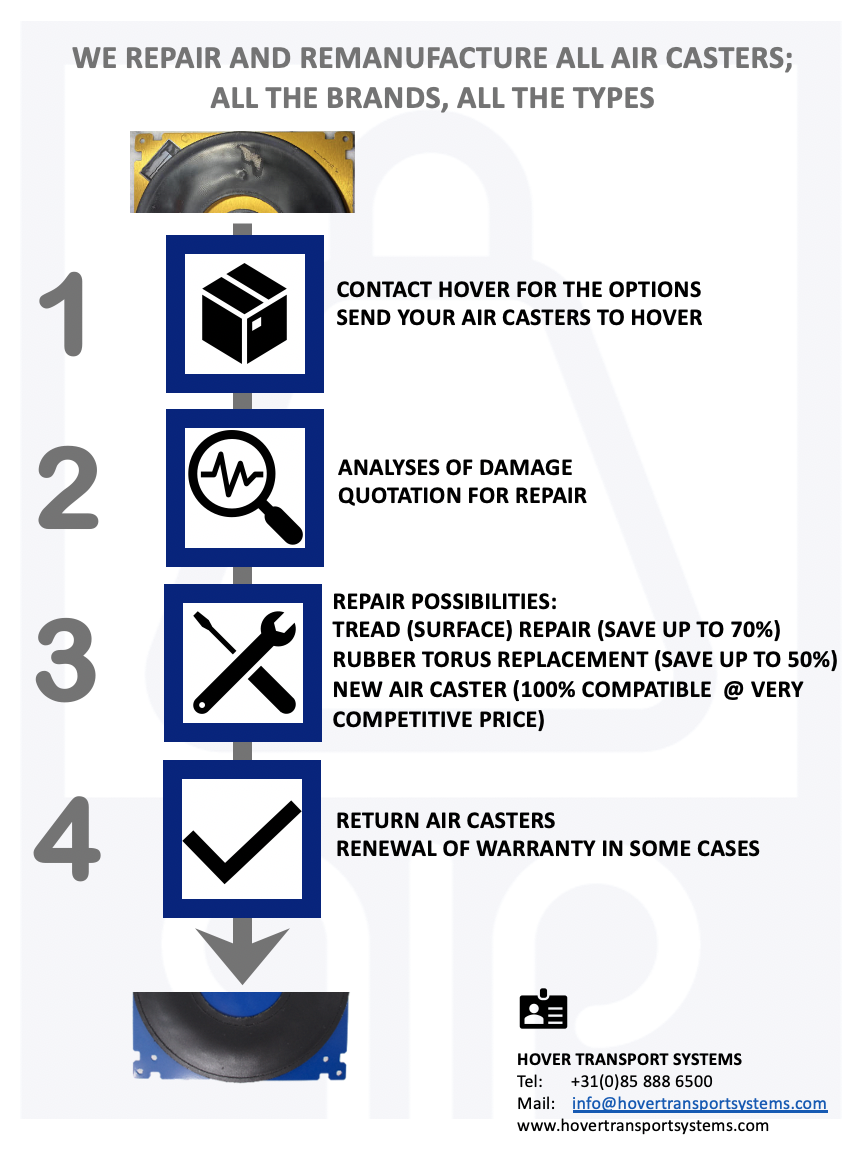 Contact Hover Transport Systems to check the possibilities for your air caster(s) and send them to us
Fill out the contact form below, call or send an e-mail
You receive an estimate of the repair costs
Send the air casters to us
2. Analyses of damage and quotation for repair
We analyse the damage and possibilities for repair
You receive a final quotation
3. Repair, remanufacturing or new
We execute the service that is needed:
A tread (neoprene surface) repair costs about 30% of the price of a new air caster
A complete torus (complete rubber part) exchange costs about 50% of the price of a new air caster
When it is not profitable to repair, we can offer a new, 100% compatible, air caster for a very competitive price
4. Return and renewal of warranty
We send the repaired air caster back
We renew the warranty in some cases
One stop shop
We repair and manufacture all types of air casters, from all brands available in the market
The right service for you
From a single air caster repair to a full-service contract
Renewed warranty
In most cases we renew the warranty completely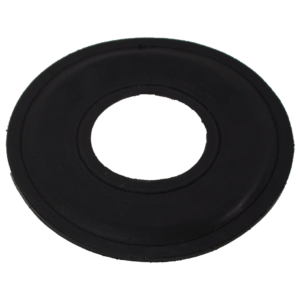 Replacement bladder/ torus for air casters
The Neoprene and Polyurethane replacement air caster bladder/ torus is a replacement part that comes with new screws to attach the bladder to the original backplate.
More information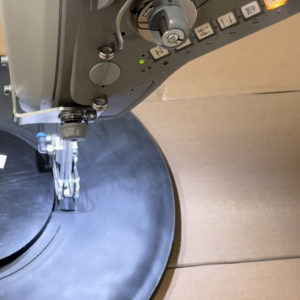 Tread repairs for neoprene air casters
A tread exchange for the neoprene air casters is the replacement of just the top layer of rubber that is in contact with the floor.
More information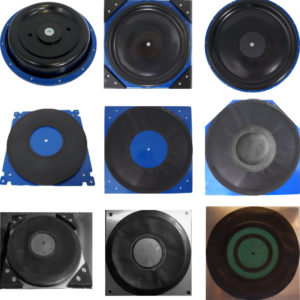 Air casters
Air casters are the core elements in an air bearing system. These are the hovering and pneumatic lifting parts which consists of a metal backplate with a torus or bladder. The bladder / torus is either made from neoprene rubber or polyurethane plastic. The benefit of plastic is that it's almost wear free, but it has  less capacity. Neoprene has almost twice the capacity and can generate a higher lift.
More information